A Martini Moment with Donald Martiny
In an interview with painter Donald Martiny, we explored the sensation of color, the meaning of his most recent solo exhibition and his artistic influences.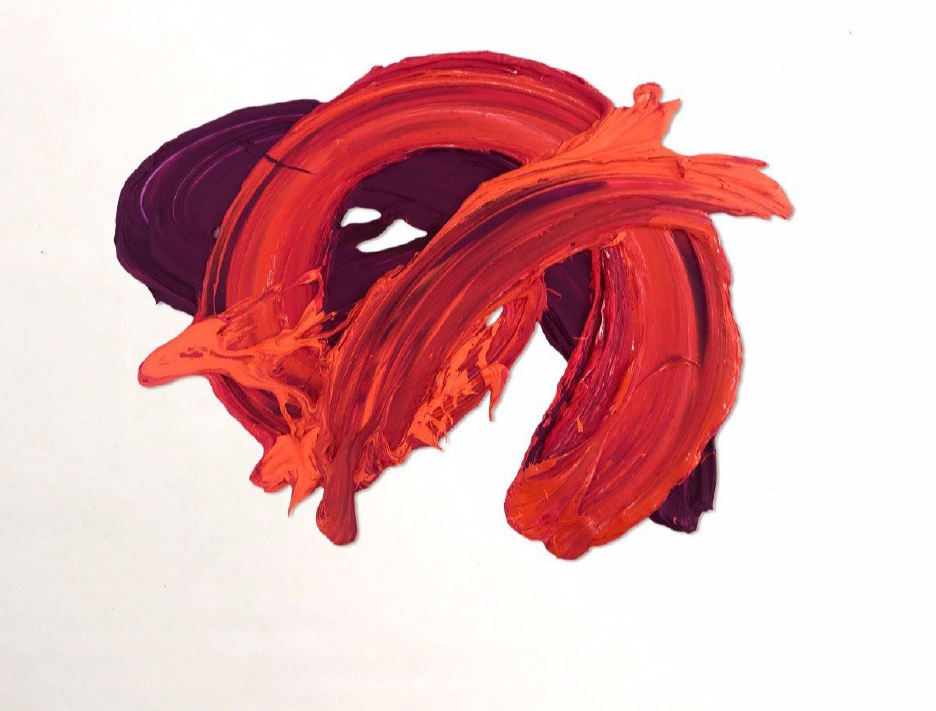 ---
Best known for his 'frozen' brushstrokes, Donald Martiny's large scale abstractions manage to be both sculptural and painterly, while somehow effecting the action of performance art. It is no wonder then that Open, Martiny's latest solo exhibition on view till January 2nd at the Dimmitt Contemporary Art in Houston, continues the artist's exploration of the "gesture," which is made to exist forever in the present. Katarina at ARS sat down with the artist to talk contemporary culture, artistic influences, and the surprisingly delightful taste of a blue crayon.
KATARINA: Your newest show at the Dimmit Contemporary Art is called OPEN, which the curator writes is a reference to "the action of the viewer, rather than the object itself." For all your viewers out there, what do you think we can all be a little more 'open' to and why?
DM: What a terrific question. Forgive me but my answer will not be specific to painting. We live in a time of branding, packaged information, and sound bites. Because we are all so very busy, we often gather information quickly from headlines or YouTube clips. But the world is a complex place and context is important. Modernist thinking held fast to universal and monotheistic ideals and manifestos, a sort of binary way of thinking. Post-modernism offered pluralism though often in an ironic, cynical, or critical way. We can all learn by listening better and being open to opposing views and new ideas.
KATARINA: We hear this series is inspired by Robert Motherwell. We represent him too! If you could speak to Robert and ask him one question, what would it be?
DM: If only I could. I would, without question want to hear about his time in Taxco, Mexico with Wolfgang Paalen. It was such a turning point in the history of art though not often talked about or written about. I believe their meeting played a profound role in the genesis of abstract expressionism and the New York School of painting.
KATARINA: Your works have been referred to as the "brushstroke" itself, and you paint in so many incredible and vibrant colors. If you were a color, what color would you be and why?
DM: Oh my, what a challenging question. That is like asking which note on the piano I like best. Perhaps this is the answer: I sincerely believe my fascination with art occurred at a very early age, not because of my passion for drawing, or my fascination with images, but because of a pure color experience I had when I was very young. Color has always had an intense and profound effect on me. When I was in kindergarten, I had such a powerfully visceral response to the colored crayons that I wanted to experience them by smelling, feeling, and tasting them. I remember trying to eat the phthalo blue. Perhaps that old familiar saying is right: "you are what you eat."
KATARINA: You call your works "actual authentic gestures." In the spirit of Thanksgiving, what was a recent authentic gesture made to you and why were you thankful for it?
DM: I feel very lucky as many people have been extraordinarily kind to me. I will never forget Douglas Durst for offering me the opportunity to create two monumental paintings to be permanently installed in the lobby of One World Trade Center. That took an exceptional amount of trust and vision on his part. It was tremendously meaningful to me personally and was a turning point in my career as an artist.
KATARINA: Your name is Martiny, so we have to ask: shaken or stirred?
DM: I am not often or quickly shaken or rattled, but I am easily stirred… emotionally. You might catch me shedding tears while reading a book or at the movie theatre. As for drinks I prefer a very dirty Martini with lots of olives.