In Praise of Donald Judd's Late Multicolored Work
By George Newall
In November 1984 an exhibition of new three-dimensional objects by Donald Judd opened at Leo Castelli Gallery in New York. Judd had shown with Castelli in numerous exhibitions starting in the mid-1960s, and this latest group of works signaled a bold new direction for the artist. In a radical shift, Judd dispensed with a formal principle that had guided him since the earliest stages of his career — namely of using no more than two colors in a given artwork — to unveil a series of exuberantly multicolored aluminum works.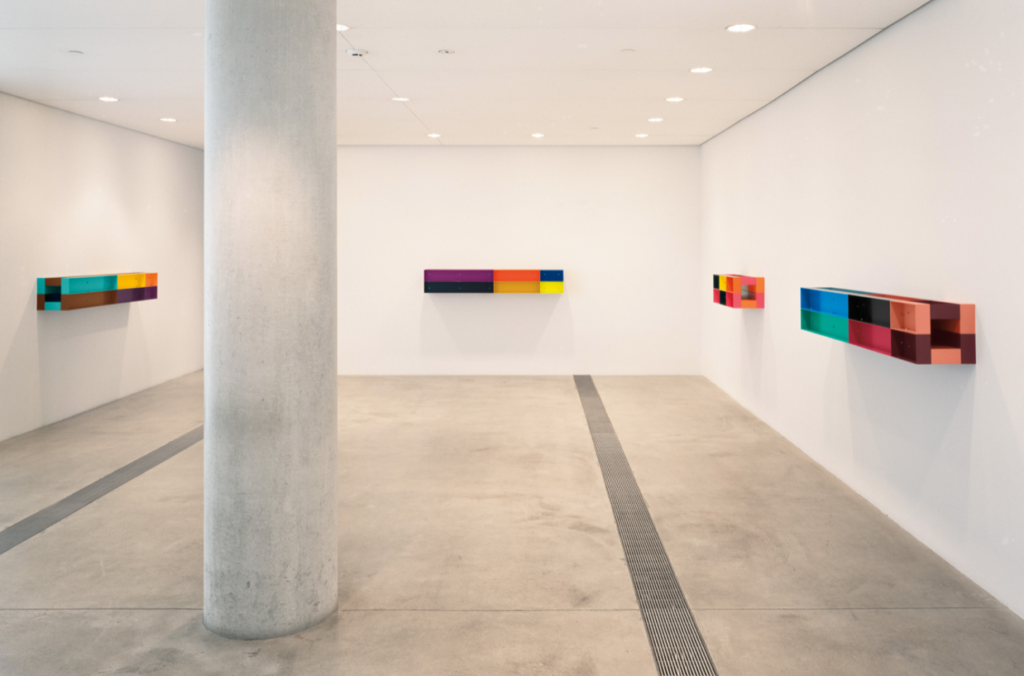 Created in collaboration with a Swiss design company outside of Zurich, Judd was afforded certain technical advantages, such as the ability to fold individual plains of aluminum, rather than relying on joints as he did in earlier works. Moreover, the possibility of introducing a previously unexplored range of colors in this industrial process was an intriguing opportunity for the artist. Drawing from the RAL color chart, a German derived system that is universal across industrial manufacturing, Judd found a limitless outlet for experimentations with color. Speaking years later, he expressed that he had "wanted all of the colors to be present at once. I didn't want them to combine," continued the artist, "I wanted multiplicity all at once that I had not known before."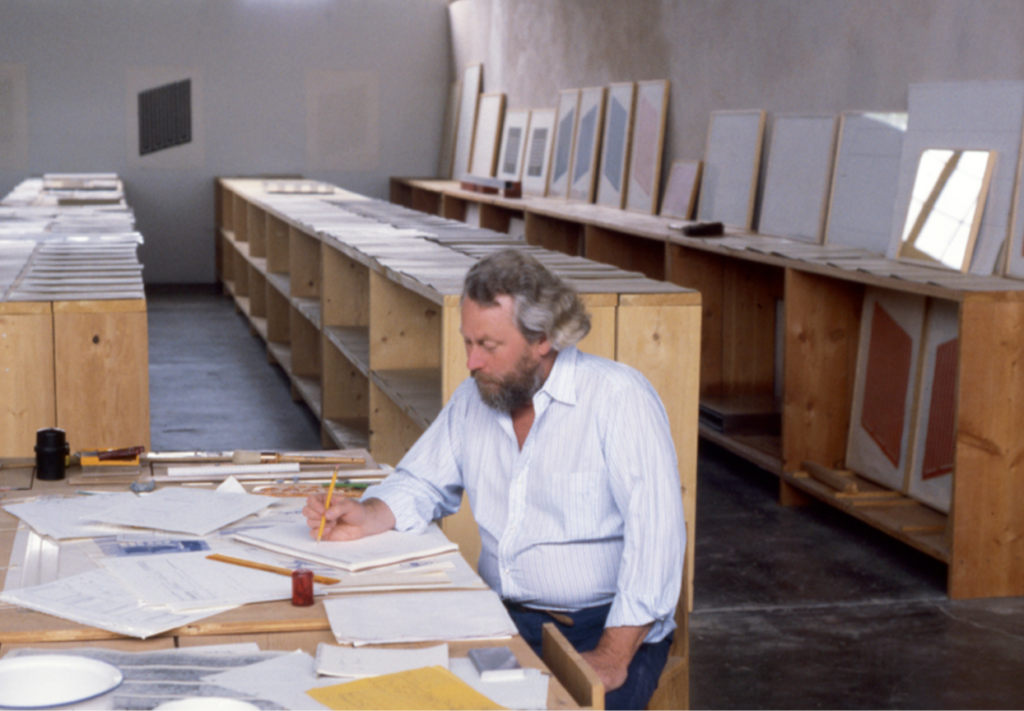 The Castelli show, however, was met with bewilderment, even by Judd's most ardent followers. Accounting for this reaction, curator Marianne Stockebrande has remarked that "there was a certain perception of what a Judd work is: it had to be metal, it had to be tough. An efflorescence of color didn't seem to fit that perception." Contemporary reviews of the exhibition were generally unfavorable. Writing in a 1984 issue of Artforum, Donald Kuspit offered derisively that Judd's works "join what by now has become a trend, if also reviving the De Stijl idea of a universal style. Pity to be always a little late — to be not really 'new'."
If audiences were caught off guard by the multicolored work, this came in the context of a growing cultural indifference toward the type of art making that Judd had come to embody. The cold impervious style that was termed Minimalism was being passed over in favor of more fashionable New York movements such as Neo Expressionism and the mass media-inflected work of the Pictures Generation.
The 1984 exhibition had been Judd's tenth solo outing with Castelli, and it would also be his last. The following year Paula Cooper took over representation of Judd from Castelli, beginning with a solo exhibition of his work in September of1985. The shift is known to have rankled the then 78-year-old Castelli, who visited Cooper at her gallery to confront her. The reality that Cooper, who represented other Minimalist titans such as Sol LeWitt and Carl Andre, was best poised to rebuild Judd's flagging career was proven over the following six years as she revived his market and reputation internationally.
In recent years, the position of the multicolored works as a crucial final chapter in Judd's career is largely uncontested. The radical creative spurt in this last decade characterized by an embrace of color has drawn comparisons to late phases by other artists, such that of Henri Matisse. A 2013 exhibition at The Pulitzer Foundation in Saint Louis was the first devoted exclusively to the multicolored works. Bringing together more than twenty three-dimensional objects, the exhibition offered an unparalleled reevaluation of this body of work.
The 2020 Judd retrospective that was on view at The Museum of Modern Art in New York before it temporarily closed its doors due to the COVID-19 pandemic, presented six of these multicolored works, including a vast 25-foot-long enameled aluminum work that entered the museum's collection in 2004. Reflecting on the work's enduring power, poet John Yau recently mused, "How do you use all these colors? Not make it look arbitrary, and keep your interest… Because you start to see connections in the colors. As soon as you see that, your eye wanders off to another connection and you just keep looking, and then suddenly you're in another state of looking, which I would say is poetic and it's not just purely analytical. And I think the poetry's the color. It's color that stands for itself."
The Judd exhibition at MoMA is currently being presented here as part of the museum's Virtual Views series, accessible at moma.org. Immerse yourself in Judd's work and legacy through conversations with MoMA curator Ann Temkin, the artist's own writings, audio from contemporary artists reflecting on the impact of his work, and more.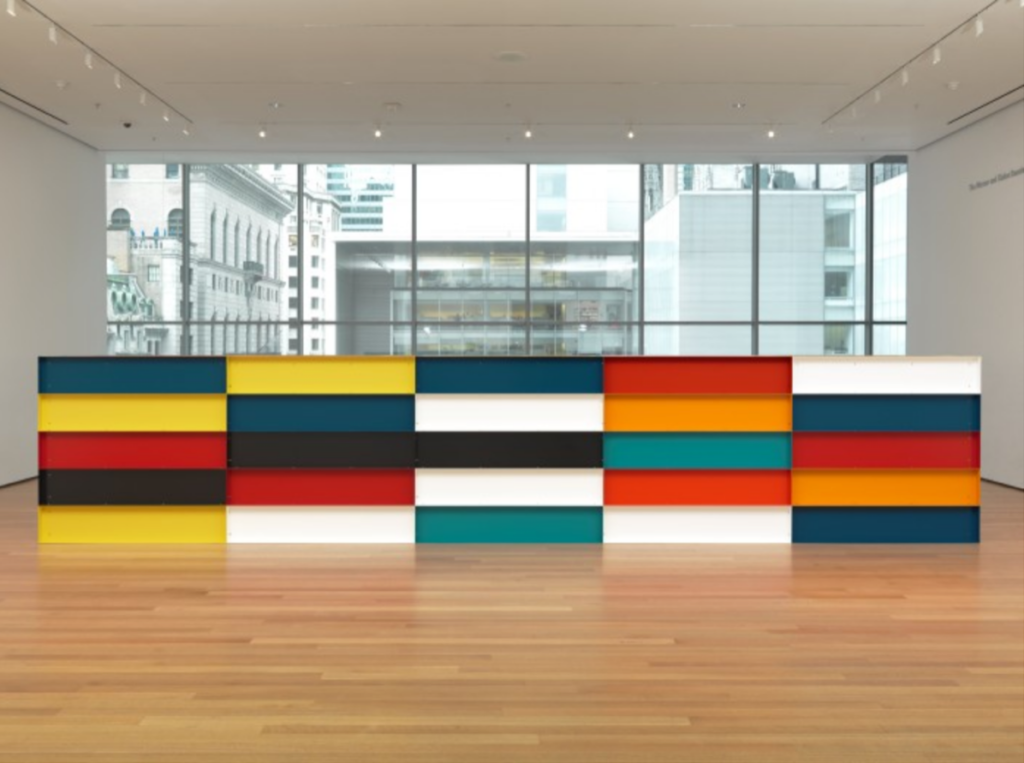 All Images: Donald Judd Art © 2020 Judd Foundation / Artists Rights Society (ARS), New York