The Power of Art: ARS Members to Know Part II
In the second installation of our series The Power of Art: ARS Members to Know we hope to educate on some of the artists in our ARS family that we think everyone should be familiar with. Please note that this list is by no means exhaustive, and if you are an ARS artist, or know an artist who would like to be featured, please do not hesitate to REACH OUT so that we may include them.
Bronx-born photographer Alvin Baltrop (1948-2004) documented the underground gay culture that flourished along the Hudson River. In 2019, the Bronx Museum presented The Life and Times of Alvin Baltrop an exhibition featuring over 200 photographs and the first ever public showing of the artist's personal archive.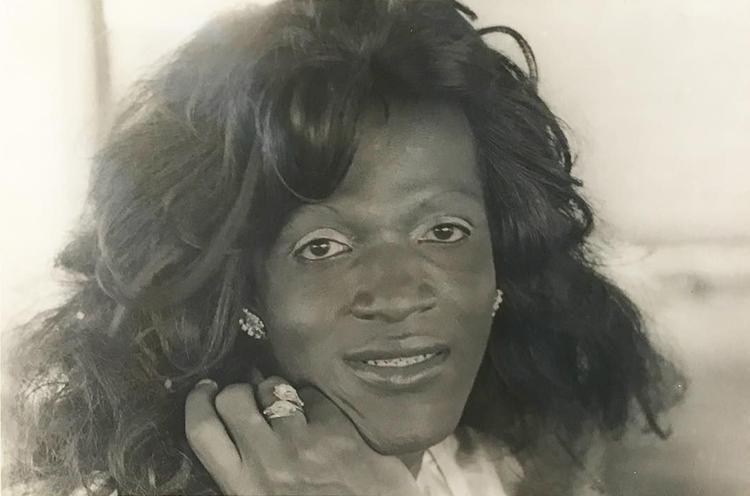 Frank Bowling OBE, RA (b.1934)  is a Guyana-born British artist. At the age of 19, Bowling moved to London and went on to study painting at the Royal College of Art alongside artists R.B. Kitaj and David Hockney. Over his six-decade-long career, Bowling has developed a uniquely abstract expressionist style as he fuses abstraction with personal memories and postcolonial geopolitics.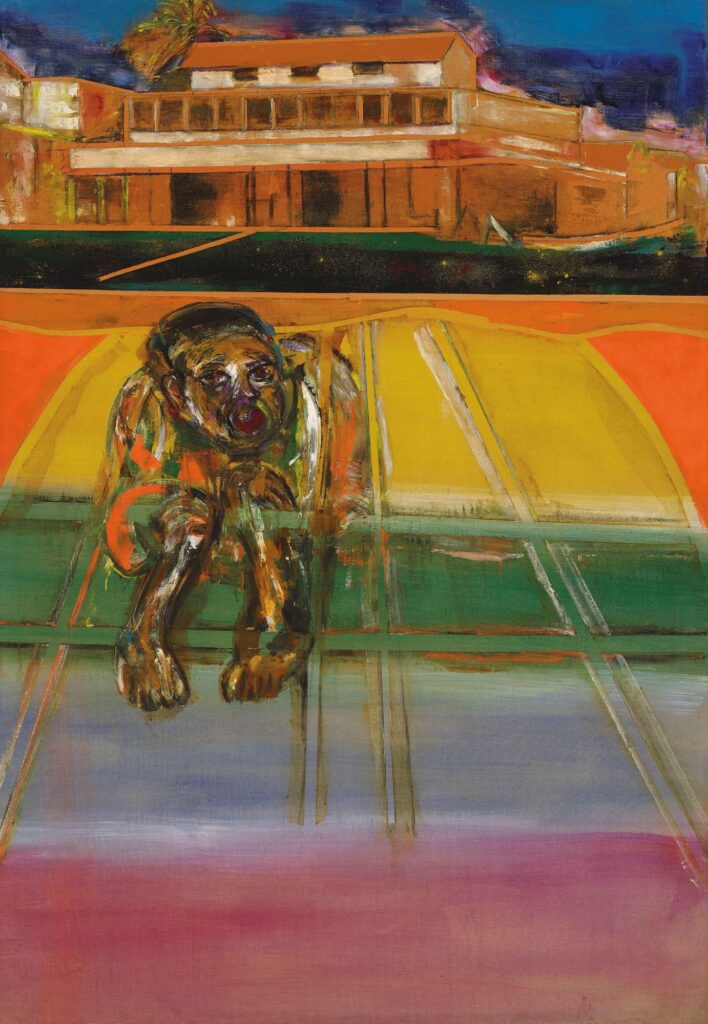 Frederick James Brown (1945-2012) was born in Georgia and grew up in Chicago's South Side. Eventually making his way to New York City in the 1970s, Brown settled in SoHo where his 120 Wooster Street studio became a gathering place for musicians, writers, and visual and performance artists. Brown began to collaborate with jazz musicians and artists such as Willem De Kooning and Romare Bearden among others. As a result, Brown was able to create a unique approach to painting that integrated elements of abstract and figurative expressionism, collage, portraiture, and performance. Brown's work can be found in the collections of the Smithsonian's National Museum of American Art, the Metropolitan Museum of Art, the New Orleans Museum of Art and the American Jazz Museum.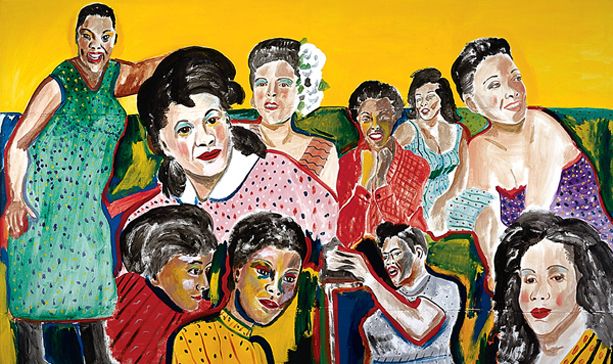 British conceptual artist Pogus Caesar (b. 1953) works in multiple mediums. Beginning his career as a pointillist painter, Caesar later moved onto photography. Caesar's work often challenges ideas of religion, sex, history and identity from a Black British perspective. Shooting in a black and white, Caesar has created a unique style blending together photography and pointillism. 
Sophia Dawson is a Brooklyn-based visual artist whose work exposes stories and experiences of individuals striving to overcome the injustices they face. In her own words: "My art is a tool to bring people from different ethnicities, social statuses, beliefs and backgrounds together to educate them and develop a dialogue on who the individuals in my portraits are, their significance and why their struggle is relevant today. They have been intentionally excluded from mainstream American History. Their stories must not be forgotten."
Dawson was recently chosen by New York City's Department of Cultural Affairs as one of the artists to create the newly minted "Black Lives Matter" on the streets of Foley Square. Dawson took on the word LIVES: the "L" with faces of mothers who have lost their children to police killings, the "I" filled with imagery inspired by Emory Douglas, the "V" highlighting the culture of the African diaspora, the "E" with the faces of Black Panther Party members who are currently in prison, and the "S" carrying a passage from the Bible.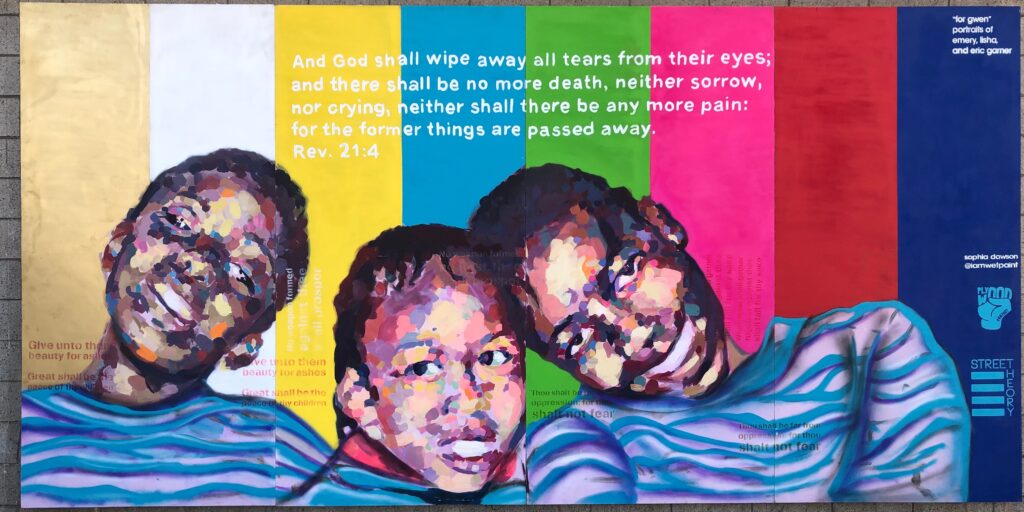 Born in Fayette County, Georgia, Nellie Mae Rowe (1900-1982) created drawings and sculptures of the rural south. Her work focused on race, gender, domesticity, African-American folklore, and spiritual traditions.
The self-taught artists incorporated everyday materials into her work while developing a signature style of flattened images in vibrant colors. Working in multiple mediums, Rowe welcomed visitors into "Nellie's Playhouse," where she decorated her house with found-object installations, handmade dolls, and chewing-gum sculptures, as she played gospel tunes on an electric organ.
Rowe's works can be found in the collections of the Smithsonian American Art Museum in Washington, D.C., the High Museum of Art in Atlanta, and the Metropolitan Museum of Art in New York, among others.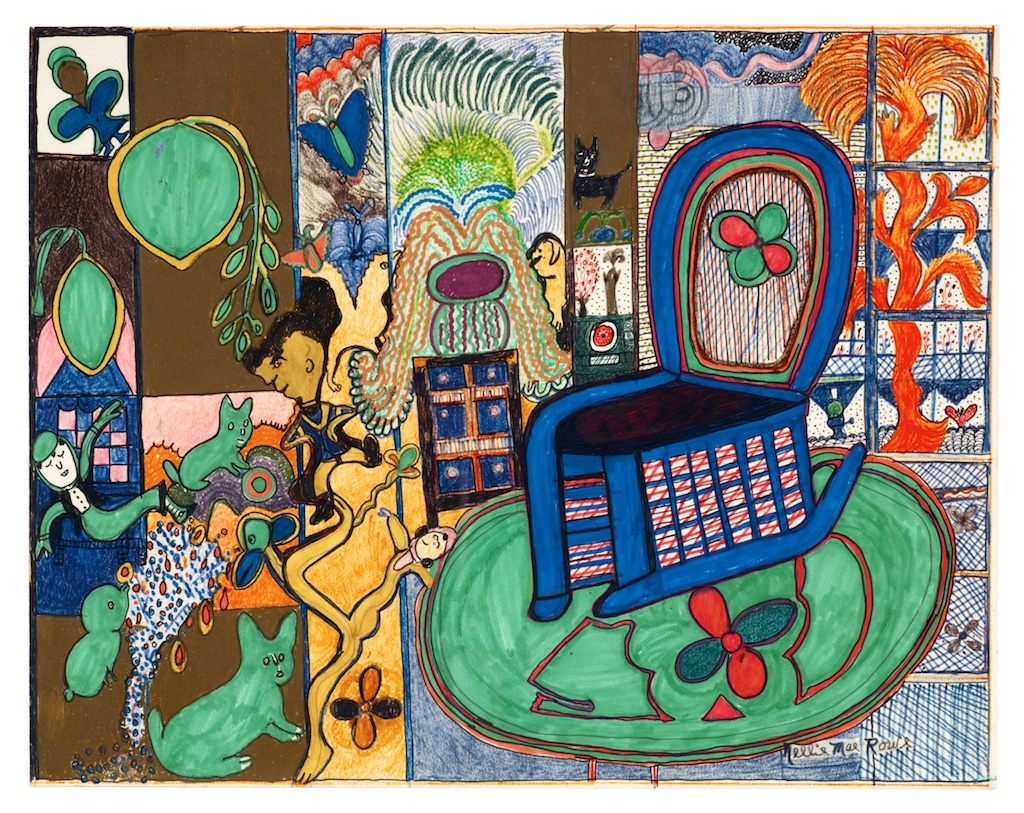 Born in Perry County, Alabama (Emmer Sewell (b.1934) is known for her sculptures made of found objects. Utilizing her home, Sewell has created an immersive environment where her works stretch from the road to the back edges of her property. Featured in this sculptural environment are objects such as mailboxes and refrigerators along with Sewell's assemblages.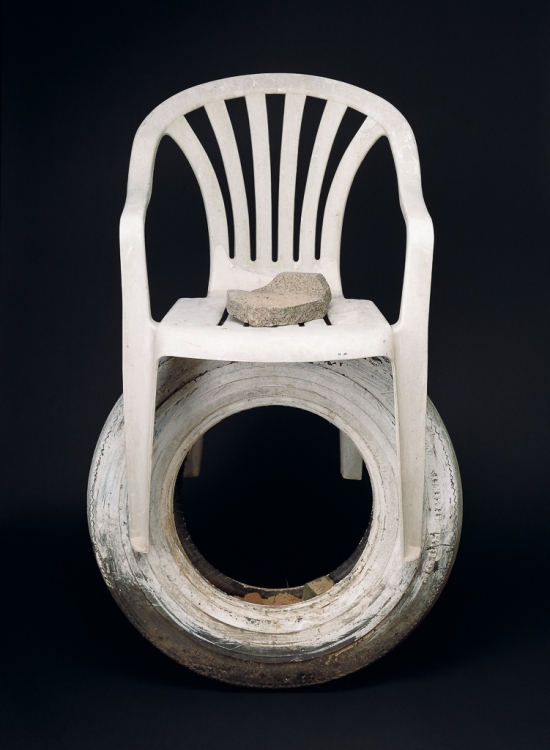 Known as "Mose T" Mose Tolliver (1920-2006) was born in Pike Road Community, Alabama. In the late 1960s, while working his job, a crate of marble fell from a forklift and crushed Tolliver's left ankle, damaging leg tendons and muscles which left him unable to walk without assistance. "Peoples say I first painted when I hurt my feet, but I painted way before that…When I got hurt, I had more time to paint," and so, Tolliver delved into his art. Often working with house paint on plywood, Tolliver created colorful works depicting flora, animals, humans and a recurring theme of watermelons and birds in his signature flat style. Tolliver's works can be found in the collections of the Metropolitan Museum of Art, Smithsonian's National Museum of American Art, the High Museum of Art, Atlanta, and more.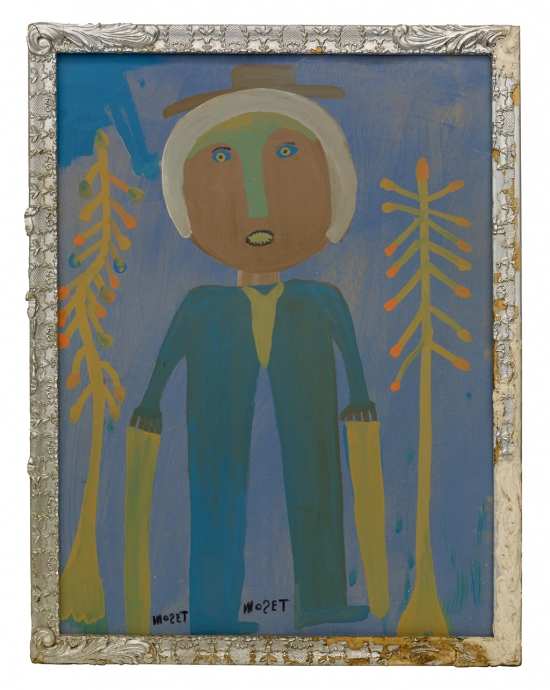 Guyanese artist Aubrey Williams (1926-1990) was best known for his large scale oil paintings. Inspired by the pre-Columbian art of indigenous peoples of the Americas, as well as classical music, tropical birds, and astrology,  Williams combined these motifs with elements of abstract expressionism to create a form of art that resisted classification.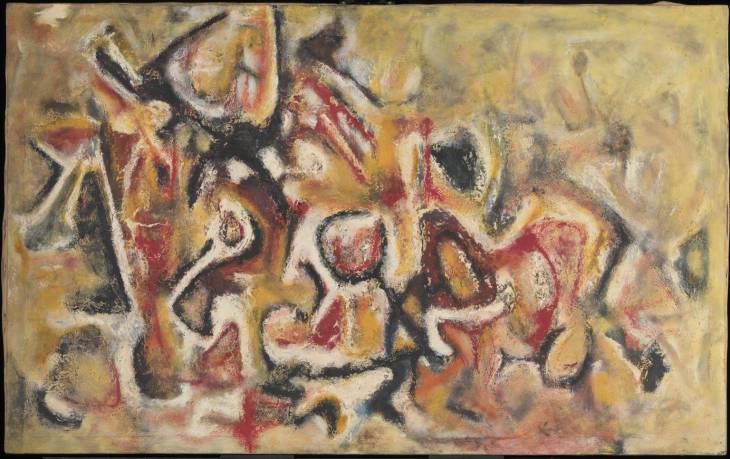 "I draw from life to emphasize it, to speak through a picture what can't be brought into words." Luster Willis (1913-1994) is best known for his paintings and illustrations. Recruited into World War II, Willis spent three years in Europe, where he first encountered fine art. Upon returning home, Willis made art with any materials he could find, "watercolors, cheap little paints from the hardware store and the drugstore, some oil paint people give me that I didn't like using, fingerpaint, shoe polish I used to use, and I reckon anything I could get my hands on." By painting on different kinds of paper with varying thicknesses, Willis collaged them together on the same canvas to create his innovative "set ins." From the 1960s onward, Willis' work began to take on a political tone as he made subtle yet powerful statements about racial inequality prejudices. Willis' work can be found in the permanent collections of Ackland Art Museum, The Morgan Library & Museum, High Museum of Art and the Los Angeles County Museum of Art, among others.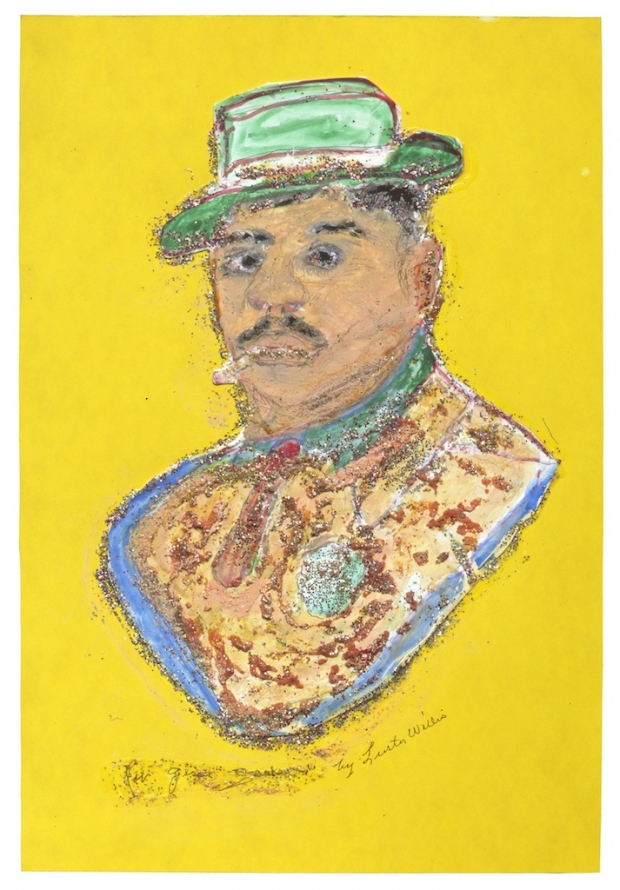 American visual artist Ronald Lockett (1965–1998) grew up under the mentorship of his cousin, artist Thornton Dial. Born and raised in Bessemer, Alabama, much of Lockett's work reflects his lived experiences in the American south. Central in his works were the struggles he faced growing up as a Black man in rural Alabama in the 1980s, addressing subjects of racial, economic, and political unrest. In 1984, Lockett was diagnosed with HIV/AIDS and died at age thirty-two from HIV related pneumonia. At the time of his death, Lockett had produced more than 350 works. 
Thornton Dial Jr. (b. 1952) is the eldest son of prolific painter Thorton Dial. Artist himself, Dial Jr., also known as "Little Buck," is a painter, sculptor, and assemblage artist living and working in Bessemer, Alabama. Often controversial, Dial Jr.'s work and subject matter make commentary on social, racial, or political relations in the United States.
Dial Jr.'s work can be found in the permanent collections of the Fine Art Museum of San Francisco, American Folk Art Museum, and Ogden Museum of Southern Art.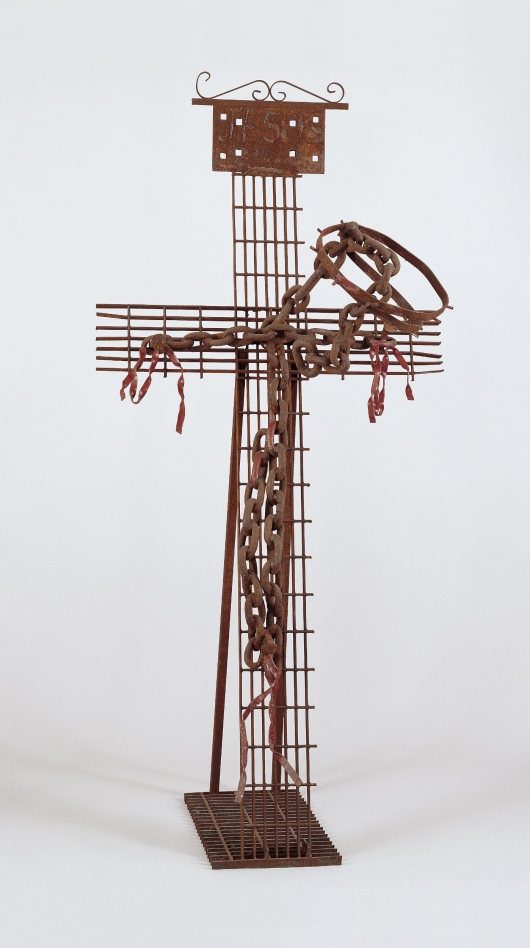 Brother to Thornton Dial Jr., Richard Dial (b. 1955) is a metalworker who creates masterful chair sculptures. Combining furniture with art, Richard Dial established Dial Metal Patterns, where he employed industrial techniques with custom design and hand-finishing to create his pieces. Common themes in Dial's creations are
Dial's work can be found in the collections of the Souls Grown Deep Foundation, the High Museum of Art, and the American Folk Art Museum.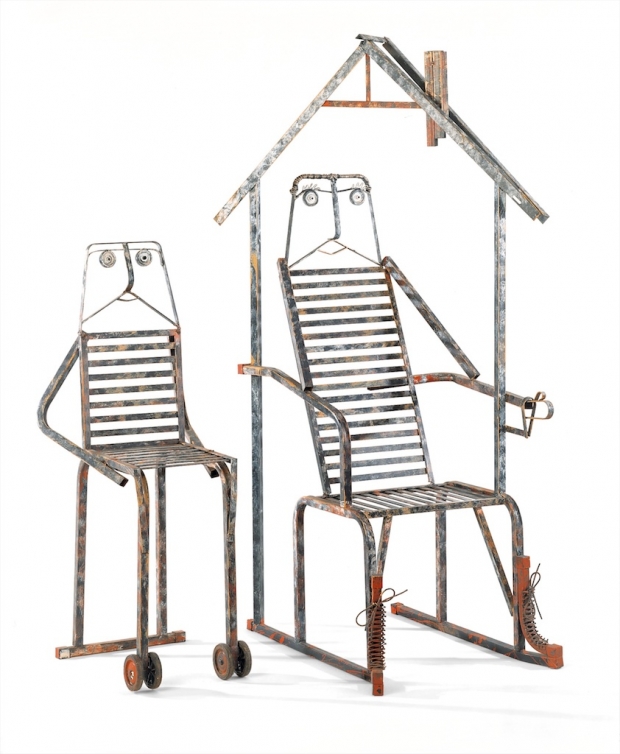 One of our newest member artists, Charly Palmer (b. 1960) is an Atlanta based artist. Charly Palmer's work is in private and public collections which include Atlanta Life Insurance, McDonald's Corporation, Miller Brewing Company, the Coca Cola Company and Vanderbilt University. He completed a project with the Green Bay Packers which features art for the Lambeau Stadium. Palmer recently illustrated two children's books, There's A Dragon In My Closet and Mama Africa—a children's book chronicling the life of Miriam Makeba–for which he received the 2018 Coretta Scott King/John Steptoe New Talent Award.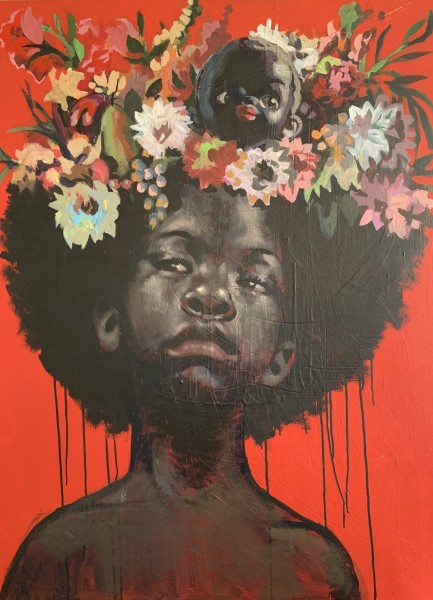 One of our newest member artists, Tracy Murrel (b. 1963) is an Atlanta based artist and curator. In her own words: "My work is a celebration of the beauty and grace that I see in all women of color. My intent is for the viewer to slow down, take their time, take it all in, and find their connection to the portraits before them. The thread is there … we are all human beings with rich lives filled with grace."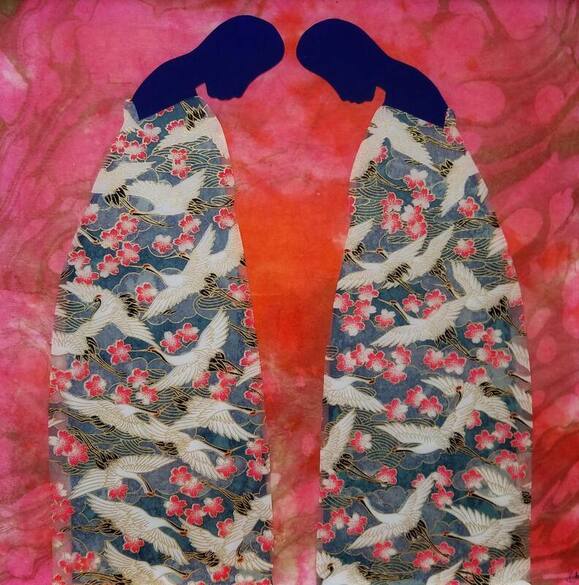 British-Nigerian Contemporary artist Yinka Shonibare (b. 1962) was born in London before moving to Lagos, Nigeria at the age of three. Shonibare returned to London to study first at Byam School of Art (now Central Saint Martins College) and then at Goldsmiths College, where he received his MFA. Shonibare works in sculpture, film, photography, and painting, but is best known for his sculptural installations that explore issues of Post-colonialism. Shonibare dresses his sculptural characters in period costumes made from batik, highlighting issues of commerce, race, and politics, as batik was produced by Europeans to be sold in Indonesia as a native style and subsequently became popular in West African countries.  "My work addresses the idea of having this fusion or hybrid cultural identity and what that produces."
In 2013 Shonibare was elected a Royal Academician. His work is included in notable museum collections including Tate, London, the National Museum of African Art, Smithsonian Institute, Washington D.C. and the Museum of Modern Art, among others.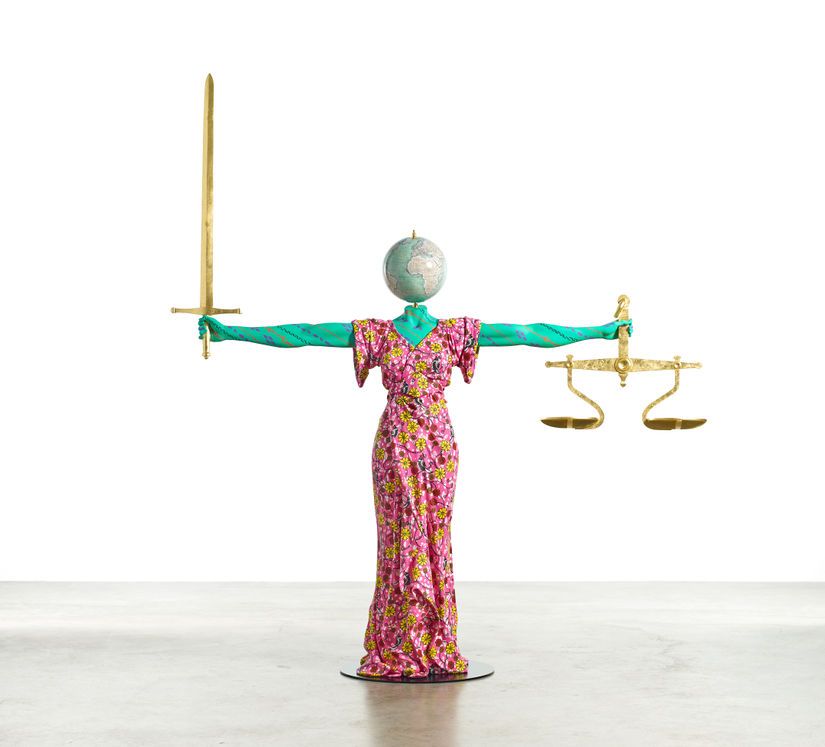 M. Gayle (Asali) Dickson (b. 1948) is an artist who worked as one of the few women graphic artists for the Black Panther Newspaper and the only female artist published in the Black Panther Party newspaper. While working in the graphic arts department of the Black Panther Party (BPP) Headquarters, Dickson met Emory Douglas, and under his guidance began to incorporate more politically charged work. Depicting mostly women and children, Dickson's work made socio-political commentary for systemic change. Through her work, Dickson promoted the BPP's 10-point program as well as the political campaigns of Elaine Brown and Bobby Seale. In 2017, Dickson's work was featured in the Oakland Museum exhibition: All Power to the People: Black Panthers at 50.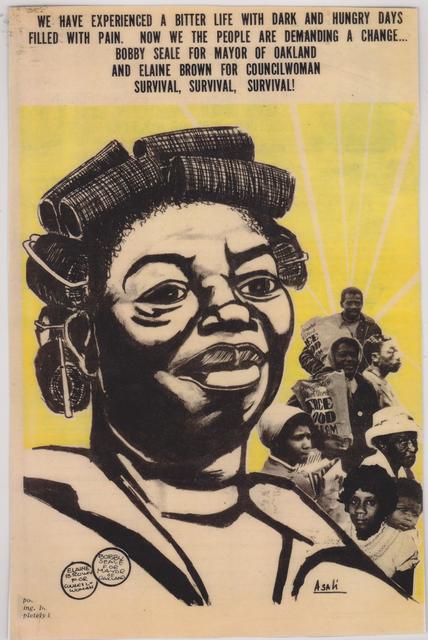 Royal Robertson (1936-1997) is best known for his hand-made signs and apocalyptic paintings. Robertson largely used autobiographical motifs, illustrating the internal struggles he faced throughout his life. Robertson worked on poster board, paper, or wood, and utilized magic markers, tempera paint, colored pencils, ballpoint pens and glitter to create his hand-made signs that referenced a diverse range of inspirations such as the Bible, science fiction magazines, and cheap tabloid newspapers.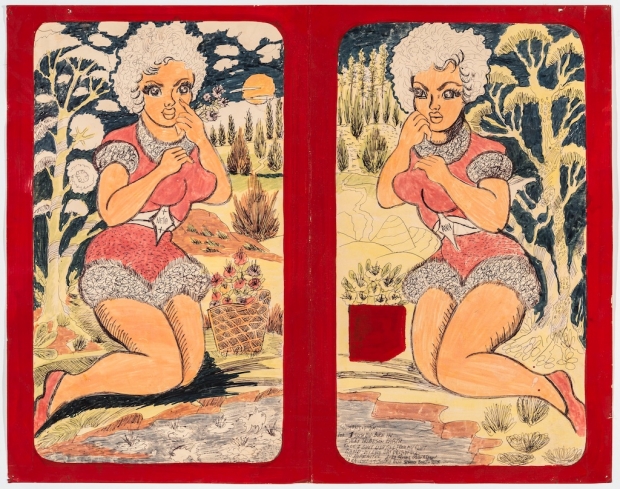 Gwendolyn Knight Lawrence
Born in Bridgetown, Barbados, Gwendolyn Knight Lawrence (1913-2005) came to the United States at the age of seven. While living in Harlem, Knight participated in artist workshops, studying painting and sculpture under the prominent artist and educator, Augusta Savage. Savage came to be a mentor for the artist, a relationship that propelled her into the inner circles of the Harlem Renaissance where she became associated with the leading creators of the movement such as Langston Hughes and Romare Bearden. In 1934, Knight joined a Works Progress Administration (WPA) Mural project and met her husband, artist Jacob Lawrence. Knight's work focused on still life, portraits, and urban scenes, often creating oil portraits of friends, figure studies of dancers, and watercolor and gouache landscapes. Later in her career, her work shifted towards lyrical depictions of animals in etchings and monoprints. Knight only began exhibiting her work publicly in the 1970s, and in 2003 had her first retrospective, Never Late for Heaven: The Art of Gwen Knight, at the Tacoma Art Museum in 2003, when she was nearly eighty years old.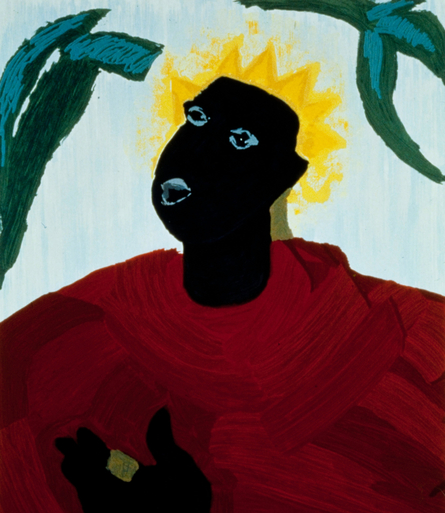 Contemporary artist La Vaughn Belle (b.) works in a variety of mediums, including painting, installation, photography, writing, video and public interventions. In 2019, Belle and Jeannette Ehlers co-created the monumental sculpture, I Am Queen Mary. Aiming to change the narrative around the history of Danish colonization of the West Indies, the statue represents Mary Thomas, one of "Three Queens" who led the "Fireburn" revolt of 1878 in which 50 plantations in Frederiksted, St. Croix were burnt to the ground. Belle's work aims to challenge colonial hierarchies, in her own words: "I see my art practice as an investigative tool, as a way to engage in dialogue, a platform for thinking and a means to develop knowledge… the emphasis of my work does not lie in the medium, but in creating a space to explore social contexts and collective narratives."